Interview With Papercutting Artist Harrison Cooper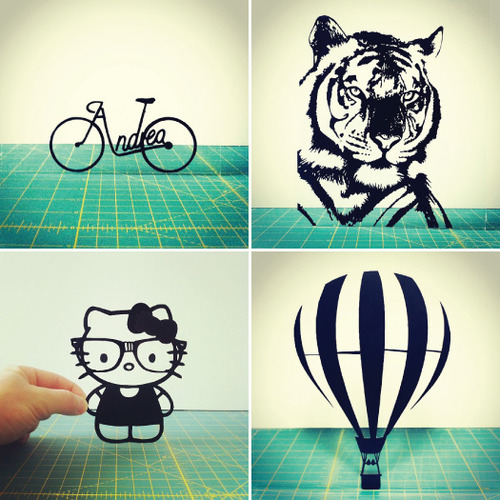 Many of our featured artists are digital folk: photographers, illustrators and the like. But Harrison Cooper is an old-school craftsman. He calls his work "silhouette art" – intricate designs and images made with nothing more than a sheet of paper and a very sharp knife. His subjects range from portraits and architecture to biblical verses and characters from Breaking Bad.
Harrison lives in Penascola, Florida. Originally from Missouri, he relocated to the Sunshine State a couple of years ago – around the same time he got serious about his art.
Despite the analogue nature of his work, Harrison has great success promoting it on digital channels. He's found considerable fame on Instagram, gathering over 22,000 followers in 15 months.
Harrison sells his work on Etsy, where his more ambitious creations fetch over $100 a piece. His master plan is to use this income to fund missionary work overseas.
Picpack caught up with Mr. Cooper this week to talk about art and life.
How would you describe your artwork? Tell us about your process.
It can be summed up in two words: carpal tunnel. Once I have a silhouette I am happy with, I draw or print the design on the back of the paper that I am using and then start cutting away with an X-Acto knife. Then I simply adhere the hand-cut piece of paper onto a white illustration board.
Where do you find inspiration for your work?
My hope and anchor for the soul, Jesus Christ – a lot of my papercuttings are bible verses. I first picked up the hobby of papercutting a year and a half ago. Every time I went somewhere and saw something, I adopted a mindset of "Hey, that would make an awesome papercutting." Other than everyday life, whenever I need a breath of fresh air, I head over to Tumblr.
Do you think you could eventually make a living from your art?
Oh, without a doubt! That is actually my ultimate goal. I want to be a traveling missionary and make a living from my faith and my papercuttings. There are other papercutting artists out there who are way more talented than I am. They make a living, so I know it's possible for me.
What's your opinion of Instagram as a platform for artists?
Considering that 99.99% of my Etsy sales have come from people who follow me on Instagram, I'd say it has worked out great for me thus far.
Name the biggest achievement in your artistic career.
I couldn't really call it a "career" just yet. It's more of a hobby right now. But I have managed to sell enough papercuttings to pay off half of my student loans.
What's your advice for aspiring artists?
Never, ever stop doing what you love. And never, ever listen to people who tell you your dreams are not achievable and you cannot do something. Because there is no better feeling than proving someone wrong.