Forget the Fridge: Here are Some More Creative Ways to Display Your Magnets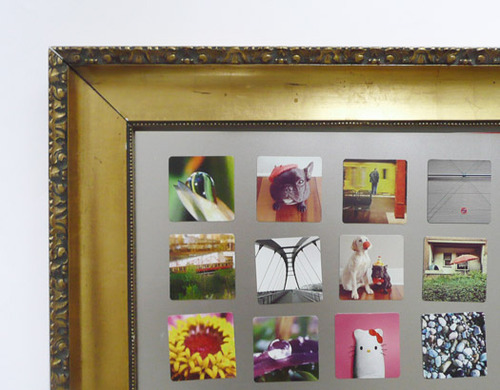 Do you ever feel like your magnets aren't getting the love they deserve? Have you filled up every square inch of space on the fridge door, and left the rest of them sitting in a dusty box somewhere? It's a common problem: the average home has a serious lack of magnet space.
Team Picpack is on a mission to fix that. You've put a lot of effort into your magnet collection and it deserves a good home. So forget the fridge; it's time to get creative. Today we'll show you how to build your very own DIY magnet space at minimal cost. It's easier than you might think…
Option 1: Build a framed magnet board
With a few basic materials, you can build a simple magnet board to hang in your house. Here's what you'll need:
A picture frame in whatever size you like. A sturdy wooden frame will work best.

A piece of thin sheet metal with the same dimensions as the frame. You can buy this cheaply at your local hardware store.

Spray or brush on paint in whatever color you like. You can also leave the sheet metal unpainted, but it won't look as nice.

Household degreaser or cleaning solution.
How it's done
Give the sheet metal a good scrubbing with the degreaser or cleaning solution. Get rid of all dirt and greasy residue. Make sure the metal is dry before you start painting.

Paint the metal in your chosen color. For best results you can use a primer undercoat, but this isn't essential. Let the metal sit for several hours until the paint has completely dried.

Remove the board from the back of the picture frame and insert the sheet metal, like you would insert a picture or photo. Make sure it fits securely (you may need to trim the edges to get the size exactly right) then replace the board and secure the latches.

That's it! You now have a portable magnet board that you can hang anywhere in your house. Why not make a whole bunch of them?
Option 2: Magnetize an entire wall in your house
This is slightly more ambitious, but the results are sure to impress your friends. With a few buckets of paint you can turn any boring wall into a crazy magnet gallery. Here's what you'll need:
Magnetic paint. Look for "Magic Wall" or a similar brand. It's not an everyday item, but you can find it online or at big hardware stores.

Normal house paint. The same color as your existing walls.

A good roller brush.
How it's done
Simply paint your target wall with the magnetic paint. It's usually not very strong, so you'll need to add several coats to achieve the desired effect. The best approach is to paint one coat, let it dry, then test your magnets and see how well they stick. Repeat this process until you get some serious magnetism. Then just cover the magnet paint with the original color, and hey presto: your magnets now have an entire wall to call their own.
Have you done anything creative with your magnets at home? Send us an email, tweet or Facebook comment and tell us about your magnet adventures.