Leaving The Nest: Upload Your Pictures From Your Computer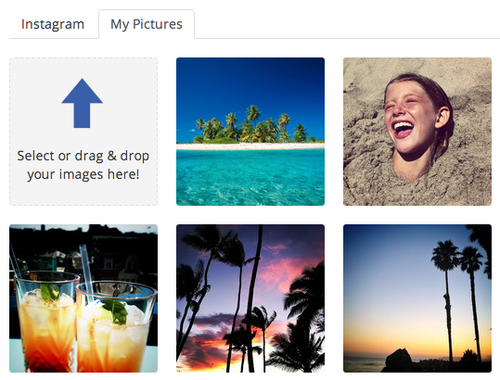 When we started Picpack, it was an easy choice to pick Instagram as our photo service partner: it was a fast growing platform with a huge user base and pretty easy to integrate with, and pictures are already nicely pre-squared. Since we started as a side project without external funding, simplicity and easy integration were a necessity.
But things changed, as they do. Starting with the big brouhaha about the Facebook acquisition, later the Terms of Service debacle and the recently updated brand guidelines, we at Picpack got the feeling that things might be moving in certain directions we weren't completely comfortable with.
Looking at our company now — more than a year after we launched – it becomes more and more obvious, that building our business completely dependent on one single company won't be a healthy strategy in the long run. Although we were never directly affected by any of Instagram's changes, we can no longer just accept whatever Instagram decides to throw at it's ecosystem of apps and developers. And that's what our users are telling us as well: over the last half year, we got more and more feedback from our existing and potential customers, who are moving away from Instagram or refuse to even start using it.
[[MORE]]
It's a bit like still living at your parents' place after graduating from college. It's somehow a comfortable and familiar place, but something doesn't feel right anymore. So here we are with Instagram: we love you so much, but we also need to grow up a bit.
So: we are really happy to announce, that Picpack is taking a leap from the nest: from today onward, you can sign up on Picpack's website with just an email and password and upload your pictures straight from your computer. But the best part is that you are still able to connect to your Instagram account and as always, select your images from there.
In case you were wondering, we still love Instagram and use it ourselves a lot. (When you move out from your parents' place, you still love them, right?) It's a great service with so many stunning and talented photographers sharing their work. But at some point it just feels right to leave the nest. We need be independent, especially in response to the feedback from our wonderful community of users.
And that's what we are starting today. What do you all think?
If you want to try it out, we have €2 vouchers codes for the first 20 users: 3qat1s — b1rv4s — 9cffek — upai8b — my15pt — 8m1dyl — 2k2fu4 — c34leu — lexdob — bxoovw — 1z0fqy — vu9xax — b7x19t — 97dvr3 — bc08t7 — zvnhq7 — 82te1y — 11doso — reyyjh — 1jam0g —